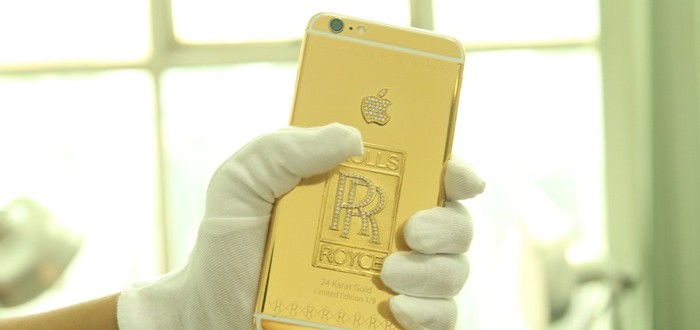 iPhone 6 plus version with monolithic gold-casted and diamond-stuck Rolls-Royce logo
Specializing gold-plating supercars and phones, Karalux continues to launch a special 24K gold-plated iPhone 6 plus version which back panel is casted with monolithic Rolls-Royce logo gold and stuck diamonds.
>> Read more: The first 24K gold-plated Samsung Galaxy Note 4 version all over the world
>> Read more: Samsung Galaxy Note 4 disassembly and gold-plating guides
Right after introducing the 24K gold-plated Rolls-Royce Phantom in Vietnam, engineers of Karalux urgently rush into customizing and gold-plating iPhone 6 for the owners of these supercars.
It takes 3 straight working days to manipulate this special iPhone 6 version. It begins from designing to forming the ideas and then referring to ideas of the Rolls-Royce Phantom owners.
The whole back panel of the iPhone, sim tray, volume buttons, and ring/silent switch are coated a 24K gold layer by the latest mirror coating technology, helping the surface glitter and professional.
The highlight of this special version is that the apple logo of Apple and its logo Rolls-Royce car are casted from monolithic gold which weight is more than 1 tael of pure gold (37.50 grams).
After finishing the logo, the next stage is to process the surface.
In addition, in order to make the phone more prominent and luxurious, the Karalux jewelers have 115 natural diamonds stuck its back panel, 38 of which are used to stuck for Apple Logo, the rest 77 diamonds for the letter R.
Thus, with the combination of a mirror-like gold layer and the diamonds, iPhone 6 come into prominence in different lighting conditions.
According to Mr. Nguyen Ngoc – Engineer who implements in gold-plating this iPhones 6 version says: "The total cost for customizing this version is over 200 million dong. This is a special version for Rolls-Royce owners in Vietnam."
"Now, VinaTAB only customizes 9 phones, and one of which has belonged to an owner of gold-plated Rolls-Royce Phantom" – Mr. Ngoc adds
Some images of the monolithic gold-plated iPhone 6 with Rolls-Royce logo
 The stage of finally testing and distinguishing diamond before handing over to the customers
Technique to inspect features and operation of the special iPhone 6 version
The vignette "R", symbol of Rolls-Royce, is carved to reduce the gap on the back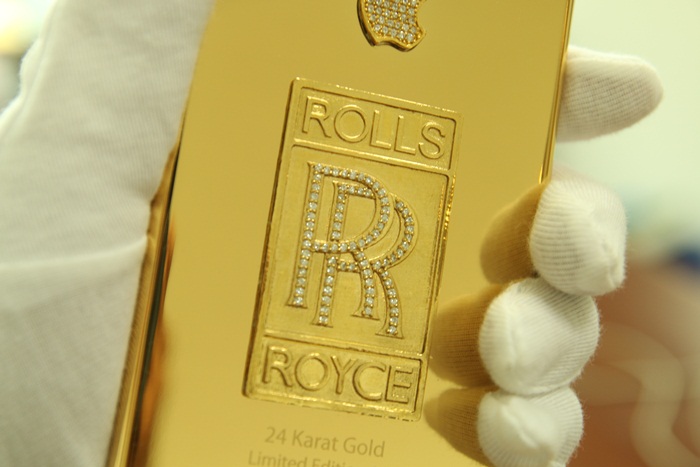 The symbol of the Rolls-Royce logo is casted from monolithic gold
The corners of the machine are covered with a gold layer
Total number of diamonds stuck on apples and R is 115
This is a special version of the iPhone 6 which is customized for the owners of Rolls-Royce car in Vietnam
The cost of an iPhone 6 Plus with a casted Rolls-Royce logo like this is over 200 million dong ( $ 10,000 )
>> Read more: Karalux officially announce the first 24K gold-plated iPhone 6 over the world
>> Read more: Karalux officially unveils a luxurious 24 gold-plated BlackBerry Passport version
Please contact the following address to 24K gold plate iPhone 6 and phones:
Company: VinaTAB Corporation
Hotline: 1900 6479 -0903 .661 954 – 0938 863 863
Website: https://mavang.com / Email: Tuvan@mavang.vn
https://www.facebook.com/MaVang.vn
Mr Khôi Nguyên/ Karalux
Karalux là thương hiệu chế tác quà tặng mạ vàng cao cấp tại Việt Nam. Không chỉ nổi tiếng trên thế giới về độ vàng cho iPhone, Samsung, BlackBerry. Karalux còn được biết đến là đơn vị tiên phong trong công nghệ mạ vàng, chuyên độ vàng cho siêu xe Rolls-Royce, BMW, Lexus.
Đặc biệt, Karalux còn được lựa chọn là nhà cung cấp các loại quà tặng cho các chính khách, Nguyên thủ Quốc gia, các đối tác nước ngoài, du khách Quốc tế khi đến Việt Nam